Location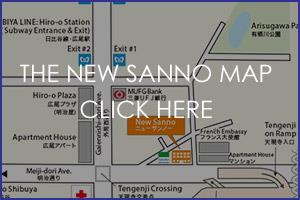 The New Sanno is located in the prestigious Hiroo residential area of Tokyo.
The nearest subway station, a 7 minute walk, is called "Hiroo" on the Hibiya Line. The Hibiya Line provides convenient access to shopping districts, sightseeing places and the nightlife district "Roppongi".
The map on the left has an instruction "how to get to the New Sanno" in Japanese. If you plan to take taxi, please print it out and show it to your taxi driver.
EXPRESS DELIVERY BY COMMERCIAL CARRIERS
If you need to send luggage or other items to The New Sanno, please click HERE!
Address:
U.S. Naval Joint Services Activity – The New Sanno –
4-12-20, Minami-Azabu, Minato-ku, Tokyo 106-0047, Japan

Phone: 03- 6868-2311 (from U.S. 1-702-951-8001)
VEHICLE PARKING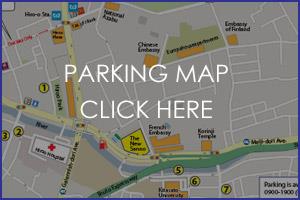 The New Sanno has limited parking available on a first-come, first-served basis. Parking overnight is only permitted for overnight guests. Please note your license plate number is required at check in.
There are various parking areas in close proximity to The New Sanno available for a charge.Day parking at The New Sanno while not using The New Sanno facilities is not permitted.
---
Military Address:
U.S. Naval Joint Services Activity – The New Sanno –
Unit 45003, APO AP 96337-5003
Address:
4-12-20, Minami-Azabu, Minato-ku,
Tokyo 106-0047, Japan
Phone:
DSN
229-8001 (Main Number)
229-4001 (Switchboard Operator)
CML:
from U.S.
Toll Free U.S. Number: 1-833-937-1841
1-702-951-8001 (Main Number)
from inside Japan
03- 6868-2311 (Main Number)
FAX:
(DSN) 229-7028
(CML) 03-3440-7824