From Camp Fuji
The fastest way to reach Tokyo from Camp Fuji (100 minutes) is to purchase a super-express (Romance Car) train ticket from Gotemba Station directly to Shinjuku Station. The price of this ticket is slightly higher than the ordinary express train.
To take an express train, purchase a train ticket at Gotemba Station to JR Matsuda Station and board the train at Track #1. Matsuda is 6 stops from Gotemba. Relocate to the Shin-Matsuda Station (3 minutes walk) and purchase a ticket to Shinjyuku Station on the Odakyu Line (Track#2).
The Highway Bus is also available from Gotenba Station to Shinjuku Station.
After reaching Shinjyuku, transfer to the JR Yamanote Line (Track #2) and ride 4 stops to Ebisu Station.
Take west exit to the Hibiya subway Line (Track #2), and get on a last car to Hiroo (Exit #2).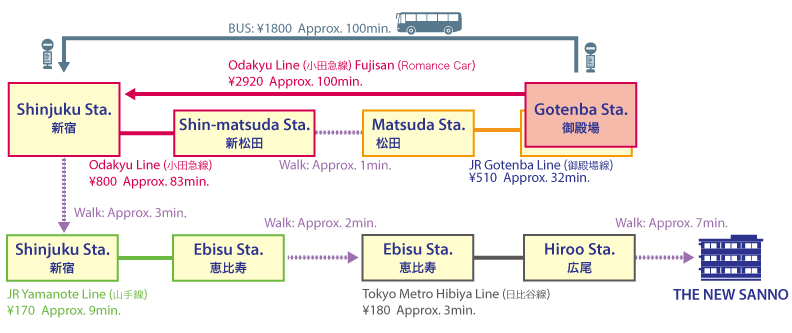 Route 1
No. of transfers: 2 Times
Travel time: Approx. 119min.
Fare
Gotenba
Approx.: 100min.
Adult: ¥2,920
Child (6-12): ¥1,460
Odakyu Line
( Limited Express Train)
Fujisan (Romance Car)

↓

Shinjuku
JR Yamanote Line

↓

Approx.: 9min.
Adult: ¥170
Child (6-12): ¥80
Ebisu
Tokyo Metro: Hibiya Line

↓

Approx.: 3min.
Adult: ¥180
Child (6-12): ¥90
Hiroo
Walk

↓

Approx.: 7min.
–
The New Sanno
Route 2
No. of transfers: 3 Times
Travel time: Approx. 136min.
Fare
Gotenba
Approx.: 33min.
Adult: ¥510
Child (6-12): ¥250
JR Gotenba Line

↓

Matsuda
Walk

↓

Approx.: 1min.
–
Shin-matsuda
Odakyu Line
( Limited Express Mt. Fuji )


↓

Approx.: 83min.
Adult: ¥800
Child (6-12): ¥400
Shinjuku
JR Yamanote Line

↓

Approx.: 9min.
Adult: ¥170
Child (6-12): ¥80
Ebisu
Tokyo Metro: Hibiya Line

↓

Approx.: 3min.
Adult: ¥180
Child (6-12): ¥90
Hiroo
Walk

↓

Approx.: 7min.
–
The New Sanno
Route 3
No. of transfers: 2 Times
Travel time: Approx. 119min.
Fare
Gotenba
Approx.: 100min.
Adult: ¥1,800
Child (6-12): ¥900
Odakyu Hakone Highway Bus


↓

Shinjuku
JR Yamanote Line

↓

Approx.: 9min.
Adult: ¥170
Child (6-12): ¥80
Ebisu
Tokyo Metro: Hibiya Line

↓

Approx.: 3min.
Adult: ¥180
Child (6-12): ¥90
Hiroo
Walk

↓

Approx.: 7min.
–
The New Sanno