Swimming Pool, Jacuzzi & Saunas
2F
Open Daily
9:00 am - 10:00 pm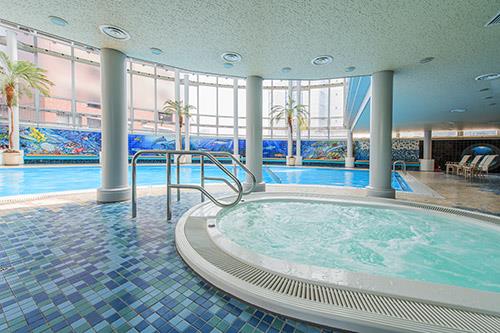 Dear Valued New Sanno Customers,
Due to Facility Upgrades, Swimming Pool and Fitness Center will be closed on 11 (Tue), 12 (Wed) October 2022.
We are sorry for any inconvenience this may cause you.
The New Sanno Pool is a wonderful leisure destination for your aquatic family fun on the second floor. This year round facility offers a heated swimming pool, Jacuzzi, children's pool, and his and her saunas and showers. Towels are provided at the pool area for Pool and Fitness Center usage.
Please observe our safety rules especially with minor children. Children under 13 years of age require adult supervision at the pool area.

Entrance Fee
HOTEL GUESTS : FREE (Please show your room key)
MEMBERS : Please show your monthly or yearly membership passes to staff.
Non Hotel Guests
$5.00 Adults
$3.00 Child (5-16)
FREE Under 4 Years of age
Dress and Appearance
At the Pool, appropriate clothing helps maintain a safe environment. Swimmers must wear regulation swimsuits, no cut off shorts, denim, workout clothes allowed. As a family-friendly hotel, please abide by the aforementioned guidelines in accordance with CNFJ Policy 1020.3B to promote an environment enjoyed by all customers.

Appropriate cover-up and footwear is required while going to or coming from the pool for all customers. Workout clothing or sweaty or soiled attire are not to be worn in any of the public areas unless going directly to or from the Fitness Facility (please do not wear in restaurants, lounge, coffee shop or retail shops).
Did you know you can enjoy our pool and gym amenities year round?
Family yearly $300
Adult yearly $250
Yearly child above 14yo $100

Adult month $30
Monthly child above 14yo $15
Safe pool procedures must be followed at all times.
Strictly Prohibited
Children 13 yrs. of age and younger must be accompanied by an adult.

Children who are not confident swimmers must be accompanied in the pool by an adult at all times.

Children 13 yrs. of age and younger are not allowed in the Jacuzzi or spa unattended.

Children 13 yrs. of age and younger are not allowed in the Fitness center without supervision.

No glass containers of any kind allowed inside pool area.

No Alcohol allowed.

Food purchases in Sanno only.

Infant must wear swim diaper (we don't provide nor sale).

No Diving.
---