From Yokota Air Base
From Fussa station, get on the train for Tachikawa, and transfer at Tachikawa to the orange Chuo Line bound for Tokyo. At Shinjuku station, transfer to the lime-green Yamanote line (track#14).
Get off one stop after Shibuya at Ebisu, take west exit to the Hibiya subway line (track#2). Get on the last car, and ride it one stop to Hiroo (exit #2).

---
Dear Valued Customers,
Effective immediately, Vehicle Operations Shuttle Service to the New Sanno Hotel is suspended for 30 days in accordance with COVID-19 guidance. Shuttles will continue as scheduled to/from Haneda and Narita Airports without stops at the New Sanno.
Visit YokotaFSS.com/COVID19 for the latest facility updates and closures.
We apologize for any inconvenience that this may cause.
26 Mar, 2020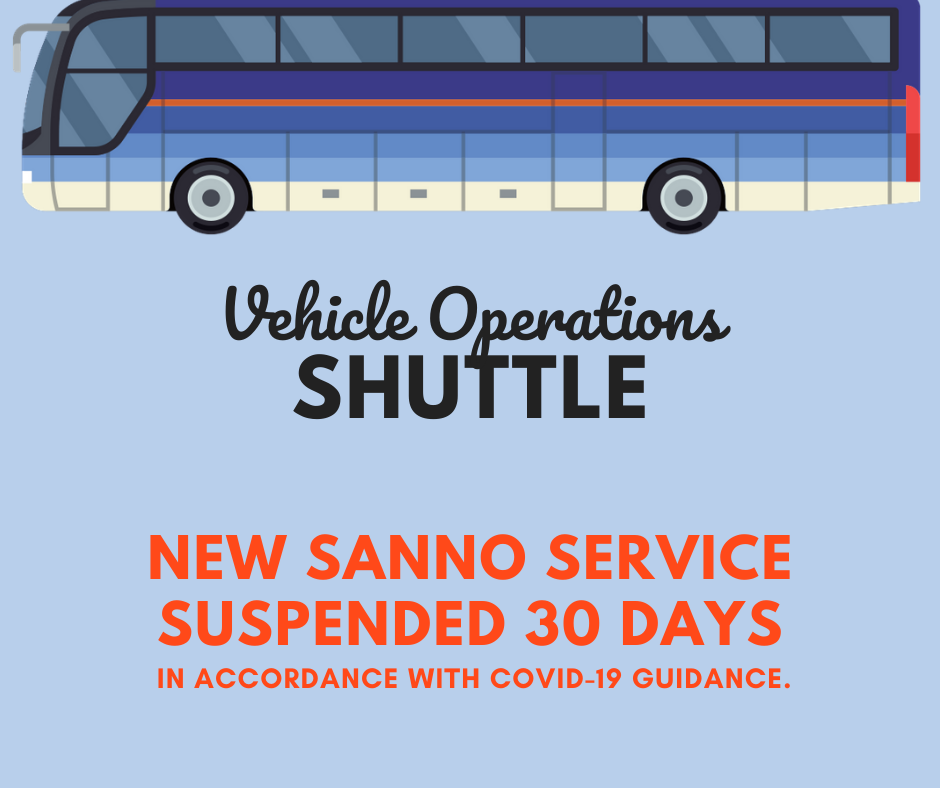 ---
No. of transfers: 2 or 3 Times
Travel time: Approx. 74min.
Fare
Fussa
55min.
Adult: ¥730
Child (6-12): ¥360
JR Ome Line orJR Chuo Line

↓

Tachikawa
JR Chuo Line
Shinjuku
JR Yamanote Line

↓

9min.
Ebisu
Hibiya Line: Ebisu
(Walk: 1min.)

↓

3min.
Adult: ¥170
Child (6-12): ¥90
Tokyo Metro: Hibiya Line
Hiroo
Walk

↓

Approx.: 7min.
–
The New Sanno
Yokota AB Services
ID Holder Adult & Child : $8.00/per person
Non ID Holder : $10.00/per person ** No Pets **
Luggage allowed : two pieces plus one carry on. Excess or oversized luggage : $10 per piece.
They do not take a reservation. first come – first serve basis
Payments: Dollars or Yen (No personal check, T/C or credit cards are accepted)
We are not responsible for any delays caused by traffic congestions.
No Yokota Bus in service on 25 Dec & 1 Jan
Yokota to The New Sanno (Sat., Sun. & Hol. Only)
Bldg #15 (Kanto Lodge)
The New Sanno
09:30
11:00
15:00
16:45
The New Sanno to Yokota (Sat., Sun. & Hol. Only)
The New Sanno
Bldg #15 (Kanto Lodge)
11:15
12:45
17:00
18:45
Any Questions:
Services Vehicle Operations
225-7720 Bldg 1290
Mon. – Fri. : 06:00-17:00
Sat., Sun. & Hol. : Closed
http://www.yokotasupport.com/vehicle-operations/