Navy Exchange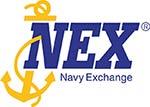 2F
Open Daily 10 a.m. - 7 p.m.
This one-of-a-kind, award winning Navy Exchange offers New Sanno Hotel guests traditional, as well as unusual Japanese gifts and collectibles, along with exciting giftware and accessories from the world's leading manufacturers. We have one of the best selections of colored stone jewelry, diamonds and gold, in addition to watches, brand name fashions, fragrances and makeup.
Music, videos, reading material, maps and guides to Japan and Southeast Asia attractions, plus health and beauty aids and mouth-watering candy round out our offerings to hotel guests.
The Navy Exchange is located on the second floor of the New Sanno Hotel. Business hours are 10:00 am to 6:00 pm Sunday through Thursday and 10:00 am to 7:00 pm Fridays & Saturdays. Transactions can be made in U.S. dollars or Japanese Yen. We honor MasterCard, Visa, Discover and the American Express cards plus military exclusive Star Card program.