Navy Exchange Mini Mart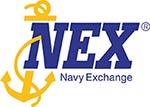 2F
Open Daily 10 a.m. - 7 p.m.
The NEX Mini Mart is located on the second floor of the New Sanno, in between the NEX Main Store and The Edge Swimming Pool & Fitness Center. At this American convenience store, you'll find all of the essentials and value pricing you would come to expect from other NEX Mini Marts. Transactions can be made in U.S. Dollars or Japanese Yen. We honor MasterCard, Visa, Discover and the American Express cards plus the Military exclusive Star Card program.