Wellingtons
1F
Opening Soon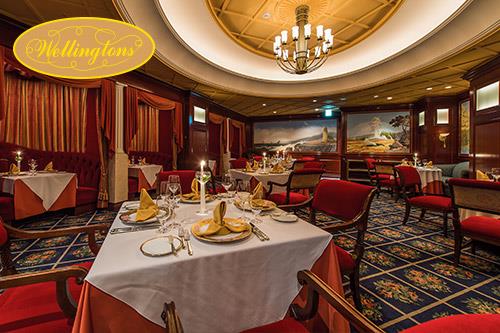 Elegant dining Wellingtons, truly a dining experience not to be missed. Located on the first floor, lobby level, offering a la carte specialties and a monthly Prix Fixe Chef's Menu. Appealing for both its superb culinary selections and its unmatched service, Wellingtons is the perfect place for that special evening, or simply to indulge in epicurean delights. We also offer a private space ideal for parties or entertaining guests. Reservations recommended.
Wellington Child Age:
No Restriction. All ages are permitted daily.
Wellington Dress Code:
Our fine dining restaurant, Wellington's, requires appropriate dress code for all customers. Wellington's does not require a jacket or tie for gentlemen, however, for both men and women, a minimum casual dress code requirements and appropriate attire with proper foot wears are required. Dress and appearance must be non-offensive. Outer garments bearing obscene, discriminatory or with offensive designs or language are not allowed. We do not permit tank tops, sleeveless tops or shirts, undershirts or undergarments, torn or frayed clothing, cut off shorts, workout clothes, swim wear, or sandals.
---

Limited rooms are available on Fridays and Saturdays for guests who dine in Wellingtons on the evening of their reservation.
For more information please call Restaurants & Events Reservations Desk
(DSN)229-8003 or (CML)03-6868-2333
(events@thenewsanno.com)
---