Sunday Brunch
Suspended until further notice
Reservations Suggested
We accept reservation requests up to 24 hours before the reservation date. If your request is within 24 hours of the reservation date, please call our F&B Reservation Desk at 229-7151 or 03-3440-7871 EXT.7151
---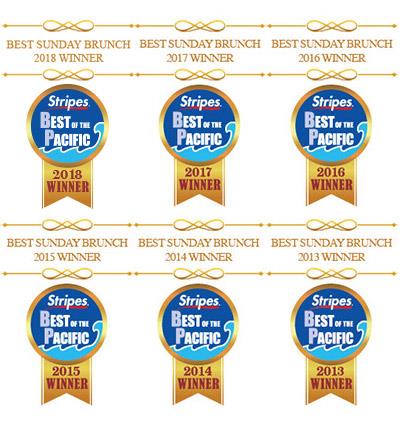 Every Sunday the spacious Empire Ballroom becomes the site of the finest brunch in town. Delicacies abound at this all-you-can-eat buffet.Fresh baked breads, rolls and croissants complement an array of traditional and international favorites like Belgian waffles, omelets made-to-order and carved beef.
Salad bar, fresh sushi bar, great seafood station, multiple entrées, cooking and carving, pies, cakes and pastries top off the exciting assortment of delicious dishes available. Call the Food and Beverage Reservations Hotline at ext. 7151 between 8 a.m. and 5 p.m., ext. 7161 after 5 p.m. daily to make your reservations.
Reservations from 10 a.m. until 2 p.m. Reservations are held for 20 minutes. (Dining Time Policy – 90 minutes maximum.)
The New Sanno offers special event functions throughout the year for your enjoyment. Prices are always reasonable.
Call the Food & Beverage Reservations Desk at (DSN)229-7151 or (CML)03-3440-7871 Ext.7151 for information and reservation.
---
---
Sunday Brunch Request Form
Eligibility
Are you eligible to make a reservation?
Notes
We accept reservation requests up to 24 hours before the reservation date. If your request is within 24 hours of the reservation date, please call our F&B Reservation Desk at 229-7151 or 03-3440-7871 EXT.7151.
All reservation requests will be confirmed by our F&B Reservation Desk.
Children 4 and under are not allowed at the grill tables.